Today I am linking up with
"Truth 4 the Journey"
for first time for her meme "Thankful Thrusday".
A while back I told you about wanting to start a meme like this, but a couple of weeks ago I found this one so I thought I would just join in.
So here it goes, for the 5 things I am thankful for this week.
1. Since we have been in the field, living by faith is the only thing you can do. There are not extra hours you can put into work, there is not a second job you can get, or extra things you can do. Trusting in God is the only thing you can do.
Still, God has sought us through. Lots of times we have wonder how, and when, but God has not left us. This week, once again, I have seen God meeting our needs right at the time we didn´t know how.
2.- I am so thankful that the girls are happy in school. I was a little concern about Noelia, since she is always with me. She hasn´t had times to get use to being away from me. Still, she loves school, she has a good teacher and she seems to have good friends there.
3.- I am thankful for a husband that is understanding and loves me even though I am not the fun girl I used to be 10 years ago.
4.- And I am so thankful that God has allowed me to be with my husband for 10 years and hasn´t allow the devil to hurt our family. After looking around even to Christian friends, being happily married to a respectful, loving, faithful husband, is certainly something to be thankful for.
5.- We got the thermostat for our heater set up today. Hopefully that will bring more praises in our heat bill this winter that we had last year (what a nightmare it was)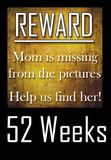 And because I wanted to do more than one meme, I am linking with
"Forever in Blue Jeans"
for the challenge to post a photo of me with one of more of my children once a week. Usually I am the one behind the camera (just like most moms), but I think this is a great meme because I want my kids to know I was there (and without photo there is no proof ;))
Now, praise the Lord for His blessings to you!